CACAO 0.1
Congratulations to team 3 for winning CACAO 0.1 with a final score of 330 pts.


All of the teams exceeded our expectations and did an amazing job of annotating!

Experiment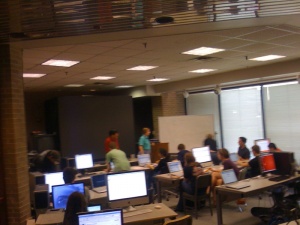 The rapid advances in genomics technology mean that we are discovering genes faster than we can figure out what they do. For most new sequences, gene function will be inferred by comparison with well-studied model systems such as E. coli. This means that the quality of functional annotation for these models is very important for the future of biology.
The Community Assessment of Community Annotation with Ontologies (CACAO) is being developed at Texas A&M as a competition for teams of undergrads around the world to improve the functional annotation of genes. We're looking for volunteers to help us test CACAO this Spring.
Involvement
Participation in CACAO 0.1 will involve attending 3 evening sessions (about 2 hours each) and working at other times with your team to annotate gene products using a website. During the first meeting, we will have a brief survey and go over the competition and GO terminology. During the second meeting, we will show examples of how to make an annotation and answer questions. Volunteers will then be divided into 2 teams (Maroon and White). Team members over the course of 3 weeks to compete for annotation supremacy with coaching/refereeing from 4 CACAO supervisors (Dr. Brenley McIntosh, Dr. Jim Hu, Dr. Debby Siegele, Dr. Adrienne Zweifel). The third meeting will include a post-completion survey, announcement of championship team, and a post-project celebration. By participating in CACAO, you will learn how to master the scientific literature, understand how the scientific community is understanding how genes work, and contribute to an NIH-funded national resource. Plus, it should be fun!
Meeting Times
The first meeting will take place on Thursday, April 8th at 7pm in Rm 106 in the Biochemistry/Biophysics building.
The second meeting will take place on Thursday, April 15th at 7pm in Rm 106 in the Biochemistry/Biophysics building.
The third meeting will take place on Monday, May 3rd at 7pm in Rm 106 in the Biochemistry/Biophysics building.
We will provide pizza and drinks for all of the meetings
Contact Info
Please contact Dr. Brenley McIntosh to ask for more information.
email: bmcintosh@tamu.edu phone: (979) 862-4055 in person: Rm 443 Biochemistry/Biophysics Building
Paper from April 8
Papers for April 15
Other Reminders
Add your annotations to the Gene Product page for your gene product, not your team page (unless you really want to or have some team agreement for this!)
See Also
Results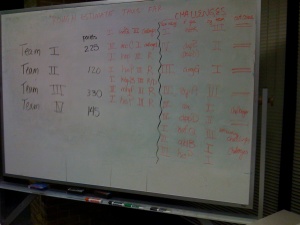 153 annotations were submitted by CACAO 0.1 teams. After review, 117 were accepted. Evaluating the results led to several ideas for how to improve CACAO after the pilot project.
Survey
Infrastructure Ideas
A system to track annotations/challenges.

Search by person, date, keyword, gene product, etc.
Students should be able to easily challenge another group's annotation, and provide reasoning.
Real-time points system

The students seemed to like the points system and were quite competitive. If we had a computational way of calculating the points it would be better.
Annotation Model

How should the students change existing annotation such as IEAs? Did we decide on the copy-then-edit model?
Categories

We can make use of the wiki's category system to group students and keep track of changes.
Teaching
General ideas: <outline>
teach the participants to go back in time.

look through the references, and
teach them about respecting priority of findings

more interactions with mentors/coaches

setup a formal time to meet. (maybe classtime?)

get the participants to edit other pages

Help pages!
PMID pages

making better annotations
it is strongly encouraged to put things into the Notes section

this helps with challenges

go over evidence codes in more depth
have students check with their mentor before completing their first x number of annotations
</outline>
Important Tasks to cover:
in-depth evidence codes
Molecular, Function, Process
Student Feedback
liked doing the course without the pressure of a grade at the end. Some suggestions included:

CACAO being an elective
pass/fail
liked only dealing with a single model organism (E. coli)

this made finding papers easier and limited the search space for the entire course
students made use of the following resources: