pKD46
See Help:Plasmid for more information about plasmids in EcoliWiki.

At a Glance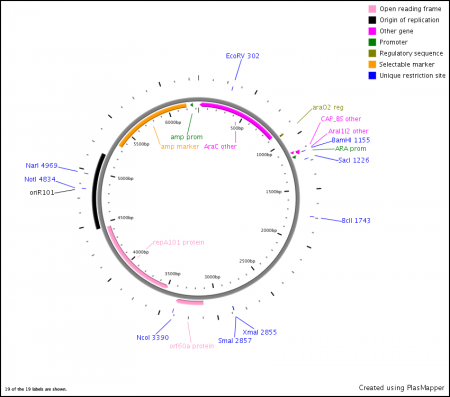 <protect>
| | |
| --- | --- |
| Type | Recombineering (Making chromosomal deletions of genes with FRT sites) |
| Origin of Replication | oriR101 w/repA101ts |
| Copy # | Low |
| Markers | AmpR |
| Link to Sequence | |
| Features | Temperature sensitive replication (repA101ts); encodes lambda Red genes (exo, bet, gam); native terminator (tL3) after exo gene; arabinose-inducible promoter for expression (ParaB); encodes araC for repression of ParaB promoter; Ampicillin resistant. |
| Accession Number | |
| edit table | |
</protect>

Notes
Described by Datsenko and Wanner[1]. Without antibiotic selection, this plasmid can be cured from a strain with growth at 37°C - 42°C. For plasmid maintenance, the strain should be grown at 30°C.
History
You can help EcoliWiki by writing about the history of this plasmid.
Sources
You can help EcoliWiki by writing about the available sources of this plasmid.
References

See Help:References for how to manage references in EcoliWiki.
Sequence
You can help EcoliWiki by providing database accessions or, if none are available, the sequence of this plasmid.