OpenWetWare
You can help EcoliWiki by editing the content of this page. For information about becoming a registered user and obtaining editing privileges, see Help:Accounts.
See Help:Databases for more information about databases in EcoliWiki.

<protect>
| | |
| --- | --- |
| Link/URL: | |
| What: | Wiki-based collection of lab websites, with information on materials, protocols, and courses. |
| Who: | Drew Endy, MIT |
| Updates: | |
| Upcoming events: | |
| Web Services: | |
| edit table | |
</protect>
About OpenWetWare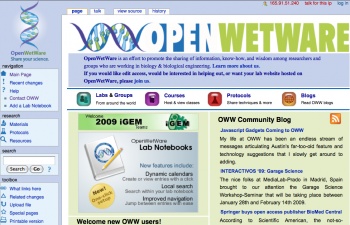 Add general information here [link OpenWetWare] is...
Content
OpenWetWare has a large collection of protocols. These include protocols from different groups for the same basic methods, allowing users to compare and contrast different ways to do things. A list of OpenWetWare information related to E. coli is here.
Using OpenWetWare
Browsing
Searching
Usage examples
Add links to additional pages describing success stories here.
Technology
Web Services/API
Discussion
References

See Help:References for how to manage references in EcoliWiki.
External Links
[link OpenWetWare] URL:link
Discussion of OpenWetWare on other websites