Web of Science
Web of Science You can help EcoliWiki by editing the content of this page. For information about obtaining editing privileges, see EcoliWiki:Membership
<protect>
| | |
| --- | --- |
| Link/URL: | |
| What: | Search tools for scientific literature (subscription required) |
| Who: | Thomson Reuters |
| Updates: | |
| Upcoming events: | |
| Web Services: | |
| edit table | |
</protect>
About Web of Science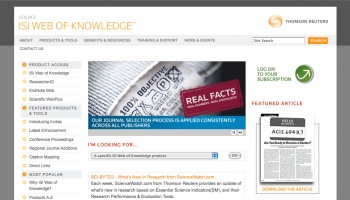 The Web of Science has three databases, Science Citation Index Expanded, social Sciences Citation Index and Arts & Humanities Citation Index, that allow for literature searches from approximately 8,700 journals across all areas of reesearch. Additionally, there are two chemical databases, Index Chemicus and Current Chemical Reactions, allowing for searches by chemical compounds and reactions.
Content
Using Web of Science
There is a detailed tutorial for Web of Science.
Browsing
Searching
There are several types of searchese available on Web of Science.
General Search is used to search for records by topic terms, author names, source title, publication year or address. In the search fields, phrases or words can be connected utilizing Boolean operators. For example, to search by both E.coli and oxyR in the topic box, type E.coli AND oxyR.
Searching by Author is by last name first initial. For example, to look for the author Joe Smith, type Smith J.
Utilizing the source title search, you can search by full journal title or by keyword. To search for the Journal of Bacteriology, type Journal of Bateriology. Or, you could type bacteriology* and get journals with bacteriology in their title.
Cited Reference Search allows you to search for articles that cite a particular article. Additionally, in the Arts & Humanities Citation Index, using the cited reference search allows you to search for articles that deal with an illustration of a work or art or a musical score. To search using cited reference search, first click on the cited reference search button. Next, check the box for which database you which you wish to search. By default, all three citation databases are selected. Enter the cited author, cited work and cited years for the paper for which you are searching.
Structure search allows for searching for chemical compunds and reactions. The plug-in is only available for PCs. To begin searching, you must first download the structure drawing plug-in. Finding this plug-in was tricky. I first selected help index-->plug-in-->for structure drawing. This gave me the link here. Then, follow the directions listed on the page. After the plugin is installed, you can do your structure search. Unfortunatly, I did not find the link for structure search on the Web of Science homepage.
Usage examples
Three options for citation tracking: Google Scholar, Scopus and Web of Science.
Bakkalbasi N et al. Biomed Digit Libr. 2006 June 29;3(1):7 Abstract
Technology
Web Services/API
Discussion
References

See Help:References for how to manage references in EcoliWiki.
External Links
Discussion of Web of Science on other websites