WU-Blast
You can help EcoliWiki by editing the content of this page. For information about becoming a registered user and obtaining editing privileges, see Help:Accounts. <protect>
| | |
| --- | --- |
| Link/URL: | |
| What: | BLAST tool |
| Who: | |
| edit table | |
</protect>
Short Description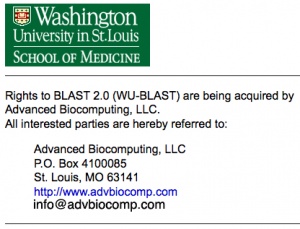 Share your knowledge and ideas. How you can help. See Help pages if you need help with using the wiki

WU-BLAST is a fast BLAST implementation from Warren Gish in the Department of Genetics in the School of Medicine at Washington University in St. Louis(WUStL). WU-BLAST can be obtained by from WUStL (free for academic use, for a fee for commercial use).
Links
Requirements
WU-BLAST runs on
User notes
Installation
After requesting WU-BLAST from WuStL, a temporary URL for downloading the executables is sent by email.
Installation on Mac OS X
See Also
References
See Help:References for how to manage references in EcoliWiki.