GONUTS
You can help EcoliWiki by editing the content of this page. For information about becoming a registered user and obtaining editing privileges, see Help:Accounts.

<protect>
Link/URL:
What:

Gene Ontology Normal Usage Tracking System (GONUTS)

Community curation of usage notes for GO and GO annotations for genes

Who:

Jim Hu, Debby Siegele, TAMU
Chris Elsik, Georgetown

Updates:
Upcoming events:
Web Services:

coming soon...

edit table
</protect>
See Help:Database_table for how to add or edit information in this section of EcoliWiki.
About GONUTS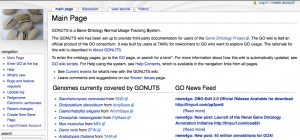 GONUTS, the Gene Ontology Normal Usage Tracking System, was developed as part of the PortEco project to support community annotation of genes and gene products to Gene Ontology terms. GONUTS is a wiki, based on modifications to the open source MediaWiki system.
Content
Using GONUTS
Browsing
Searching
Usage examples
Add links to additional pages describing success stories here.
Technology
Web Services/API
Discussion
References
External Links
[link GONUTS] URL:link
Discussion of GONUTS on other websites