Faculty of 1000
You can help EcoliWiki by editing the content of this page. For information about becoming a registered user and obtaining editing privileges, see Help:Accounts. <protect>
| | |
| --- | --- |
| Link/URL: | |
| What: | Highlights and reviews of papers in the biological sciences recommended as interesting by members of the Faculty of 1000. |
| Who: | |
| Updates: | |
| Upcoming events: | |
| Web Services: | |
| edit table | |
</protect> See Help:Database_table for how to add or edit information in this section of EcoliWiki.
About Faculty of 1000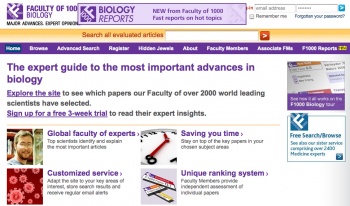 Faculty of 1000 Faculty of 1000 is a database that peer-reviews journal articles and evaluates the overall impact of the paper. The participants classify the article with terms such as a new finding, a technical advance, as having an interesting hypothesis, an important confirmation, or controversial findings. Using a numerical system, PIs rate publications and the website rates the article as "recommended", a "must read", and "exceptional" based on the Using a numerical system (the F1000factor), PIs rate publications as "recommended", a "must read", and "exceptional" based on its F1000 factor.
Content
A list of peer- reviewed journal articles that have been recommended by selected faculty members.
Using Faculty of 1000
Browsing
There are endless browsing options for this website. You may browse journal articles by:
Topic/Field of Research
Top 10 for all biology/medicine or for each individual field
All-time Top 10
Most Viewed
Hidden Jewels
Once you finds an article, you may choose to view the evaluations, or link to the abstract in Pubmed to read more.
Searching
Usage examples
This website allows you to wade through the oodles of articles published every month and is very well organized. Also, many people come here to choose articles for journal club presentations.
Technology
Web Services/API
Discussion
References
External Links
Discussion of Faculty of 1000 on other websites
__RIGHTTOC__