E. coli Genome Project at UW-Madison
You can help EcoliWiki by editing the content of this page. For information about becoming a registered user and obtaining editing privileges, see Help:Accounts. <protect>
| | |
| --- | --- |
| Link/URL: | |
| What: | Annotations of the E. coli K-12 genome and its annotations. Creating knockouts of every gene, clone of every ORF, and extensive gene expression under varying physiological conditions. |
| Who: | University of Wisconsin - Madison |
| Updates: | |
| Upcoming events: | |
| Web Services: | |
| edit table | |
</protect>
About E. coli Genome Project at UW-Madison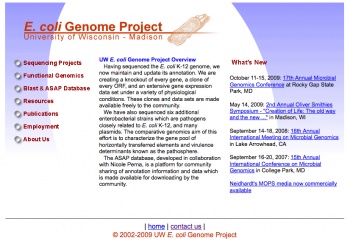 Add general information here E. coli Genome Project at UW-Madison is...
Content
Genomic sequence data of various organisms and their annotation. There are several resources including:
E.coli K-12 MG1655
E.coli )157:H7
Uropathogenic E.coli
E.coli K1 (NMEC)
Shigella flexneri 2a
Salmonella typhi
Yersinia pestis

Plasmids
Other Enterobacterial Genome Projects See list


Archive Cloning with each ORF cloned in a standard vector
Systematic Mutagenesis: A strain collection consisting of a mutant in every gene
DNA Microarray experiments of wt and nutants inder different conditions
Phenotypic analysis of mutants
Protocols and Recipes
List of some essential genes in E. coli


BLAST & ASAP Database information
Using E. coli Genome Project at UW-Madison
Browsing
Searching
Usage examples
Add links to additional pages describing success stories here.
Technology
=Web Services/AP=I
Discussion
References

See Help:References for how to manage references in EcoliWiki.
M. Liu, T. Durfee, J. E. Cabrera, K. Zhao, D. J. Jin, and F. R. Blattner (2005) Global transcriptional programs reveal a carbon source foraging strategy by Escherichia coli. J Biol Chem 280(16): 15921-15927 PubMed
External Links
E. coli Genome Project at UW-Madison
Discussion of E. coli Genome Project at UW-Madison on other websites