CLUSTALW
You can help EcoliWiki by editing the content of this page. For information about becoming a registered user and obtaining editing privileges, see Help:Accounts.
<protect>
| | |
| --- | --- |
| Link/URL: | |
| What: | Multiple alignment of nucleic acid and protein sequences |
| Who: | UCD Dublin |
| edit table | |
</protect>
Short Description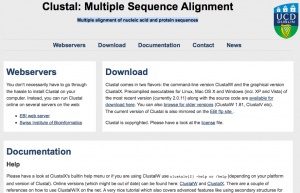 Share your knowledge and ideas. How you can help. See Help pages if you need help with using the wiki
CLUSTALW is a widely used tool for multiple sequence alignments. It is a the command-line version of the CLUSTAL family of alignment programs, which includes CLUSTALX, a graphical version that runs on Linux, Macs, and Windows. Although CLUSTALW is a command line program, it is often accessed via a web interface, such as those at EBI and Swiss Institute of Bioinformatics.
Links
Requirements
Hardware/Software requirements, if applicable
User notes
See Also
References
See Help:References for how to manage references in EcoliWiki.
↑ Thompson, JD et al. (1997) The CLUSTAL_X windows interface: flexible strategies for multiple sequence alignment aided by quality analysis tools. Nucleic Acids Res. 25 4876-82 PubMed