Bioconductor
You can help EcoliWiki by editing the content of this page. For information about becoming a registered user and obtaining editing privileges, see Help:Accounts.
<protect>
| | |
| --- | --- |
| Link/URL: | |
| What: | An open source/open development software to provide tools for the analysis of genomic data. |
| Who: | |
| edit table | |
</protect>
Short Description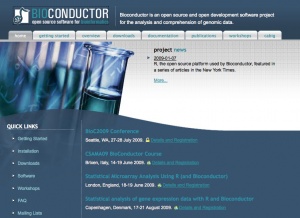 A Tool to Identify Genomic Features with a Specific Biologically Interesting Pattern of Associations with Multiple Endpoint Variables.[1]
Links
Links to sites that run the software or where it can be obtained
Requirements
Hardware/Software requirements, if applicable
User notes
See Also
References
See Help:References for how to manage references in EcoliWiki.