Pathogen Portal
You can help EcoliWiki by editing the content of this page. For information about becoming a registered user and obtaining editing privileges, see Help:Accounts.
<protect>
| | |
| --- | --- |
| Link/URL: | |
| What: | Repository linking 8 Bioinformatics Resource Centers sponsored by the National Institute of Allergy and Infectious Disease (NIAID). |
| Who: | |
| Updates: | |
| Upcoming events: | |
| Web Services: | |
| edit table | |
</protect> See Help:Database_table for how to add or edit information in this section of EcoliWiki.
About Pathogen Portal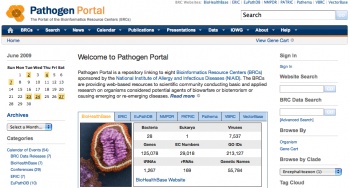 Pathogen Portal is a repository linking to eight Bioinformatics Resource Centers (BRCs) sponsored by the National Institute of Allergy and Infectious Diseases (NIAID) and maintained by The J. Craig Venter Institute. The BRCs are providing web-based resources to scientific community conducting basic and applied research on organisms considered potential agents of biowarfare or bioterrorism or causing emerging or re-emerging diseases.
Content
Using Pathogen Portal
Browsing
Searching
Usage examples
Add links to additional pages describing success stories here.
Technology
Pathogen Portal is working on interoperation standards including GFF3 for file sharing. SOPs.
Web Services/API
Discussion
References
External Links
Discussion of Pathogen Portal on other websites